2018 Recipients
Over $100,000 in funding
Job Placement
Words cannot describe how overjoyed I am these days. The amount of love and support I have been receiving from my mentor Armand King has truly been the gift I've needed for a long time. I never would've thought that it would get any better. Then all of sudden even more blessings came pouring in when Suzi Day and the Lynch Foundation entered my life. I can't help but smile when I sit back and reflect on the way I was living just under two years ago to where I am now. I was struggling with exiting a lifestyle that seemed like it would consume my life but not anymore. I am eternally appreciative to the Lynch Foundation for seeing me beyond what society depicted me to be and helping me to grow into the person I was meant to be. With the Seeds of Hope fund I am able to think a little clearer and make the decisions that will help make a positive difference not just in my life but in the lives of my two little kids.
Nursing School Grant
Seeds of Hope provided a grant to assist with tuition for nursing school.
A survivor is not strong intentionally. A survivor is one who makes it through adversities somehow and finds the strength to live another day each day at a time" - Buki Domingos
Founded by Ebony Jones
Living Beyond is an organization that provides emotional support, education, training, and group services to help individuals see beyond their current survival mindset. They provide 4 different programs; Living Beyond the Hustle, Living Beyond Exploitation, Living Beyond a Survivor, and a faith based component Living Beyond the Flesh.
[Website Coming Soon]
EMPOWERING AT RISK COMMUNITIES
Paving Great Future's goal is to rehabilitate these marginalized and at-risk communities by fostering their economic, social, and political development, especially the development of the recently incarcerated, who often struggle disproportionately to integrate into society.
Culinary School Scholarship
Jennifer
Upon graduating from the program Ending the Game, Jennifer was awarded a scholarship to attend Culinary School. We are proud to announce that she completed and graduated in November 2018 and is now closer to fulfilling her dream of becoming a chef.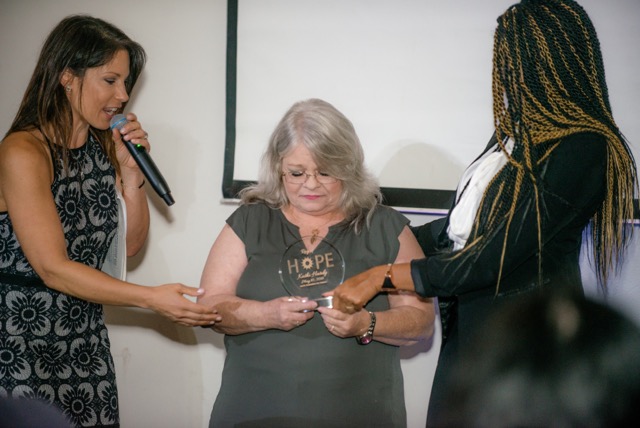 Kathi Hardy
The Ray of Hope Award honors a person who instills hope in others and makes the invisible, visible.This person gives the shirt off their back, is a tireless advocate, creates opportunities, and constantly puts others before themselves. This gift is intended for the recipient to take time to replenish and restore.
Seeds of Hope awarded $500 to fund one student scholarship to participate and one trafficking survivor leader to speak at this powerful event.
Ending the Game / Probation Dept.
Many women who were convicted of crimes related to trafficking are also victims of exploitation. While under Federal Probation supervision, they will have the opportunity to attend the Ending the Game Program. This is a 1st-of-its-kind "coercion resiliency" curriculum that reduces the rate of recidivism among sex trafficking survivors.
National Child Traumatic Stress Network
Survivor-Review of Child Sex Trafficking Factsheets
Created by Congress in 2000 as part of the Children's Health Act, the NCTSN is supported by the Center for Mental Health Services (CMHS), Substance Abuse and Mental Health Services Administration (SAMHSA), U.S. Department of Health and Human Services and jointly coordinated by UCLA and Duke University to raise the standard of care and increase access to services for children and families who experience or witness traumatic events.
Human Trafficking Innovation Workshop
The workshop will be facilitated by at least two human trafficking survivor leaders and brings together survivors and graduates students at the Kroc School of Peace Studies to identify challenges and barriers survivors face by collectively charting the path of a San Diego human trafficking survivor from the moment she chooses freedom until she is a thriving member of society.
Chinese Illicit Massage Business Sex Trafficking Survivor Consultant
World Relief Triad (WRT) coordinates the Triad Rapid Response Team in North Carolina and provides responses to identification of human trafficking and emergency services to Chinese women who are often trafficked via illicit massage businesses.
HER Bracelet Co.
In April, 2018, Doors to Freedom was the first home for female child trafficked victims to open in the State of South Carolina. Doors to Freedom can house up to 10 girls. For the girls to learn career building skills and to begin investing in their trust funds, Doors to Freedom created the HER Bracelet Co. where the girls make their bracelets of hope and compassion as a small business endeavor. Seeds of Hope was so honored to be a part of supporting them in purchasing their materials.