2019 Rays of Hope Recipients
The Ray of Hope Award honors a person who instills hope in others and makes the invisible, visible.
Cierra Robinson C.E.O. of Inspired Innovation is a San Diego City College Student majoring in Psychology with a certification in Conflict Resolution Mediation Skills. During her journey through higher education, Cierra has become a published author in a book titled "Reclaiming Our Stories" where she shares her personal narrative about being criminalized while being a victim of human trafficking. Her first year of college she started a non-profit organization called Inspired Innovation where the mission is to help enroll formerly incarcerated citizens into higher education. Since then, she has been featured on the cover of the San Diego Union Tribune as a human trafficking survivor devoted to helping others find education. With receiving awards such as Free to Thrive's first ever "Thriver Award" and recognition from the San Diego County Board of Supervisors for her work in the community, Cierra proves that there is life after trauma by turning opposition into opportunity.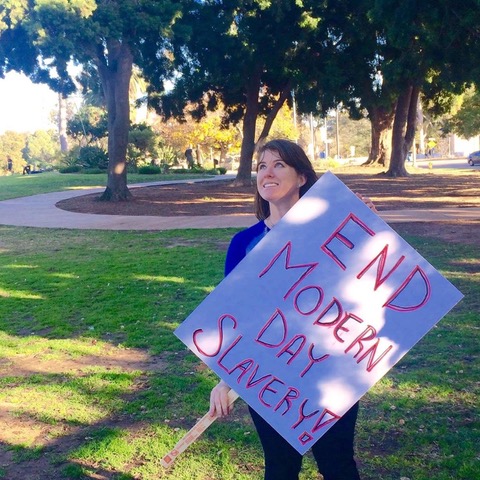 Katie has been working in San Diego's anti-trafficking movement since 2013 volunteering and working with various organizations throughout the county. She is currently a clinical intern, advocate, and survivor working within the community and across systems to underserved populations. Katie provides clinical trauma informed care and direct services to survivors working with North County Lifeline's Project LIFE. She is the Founder of Not by Bread Alone, a 501c3 nonprofit serving homeless populations through bi-weekly feeds, clothing drives, and prayer. Katie's adverse experiences from adolescence and young adulthood fuel her desire to support and amplify marginalized voices. Through her different roles over the years, Katie saw opportunity to advocate on behalf of those who felt powerless, a feeling she herself could resonate with through her past. Knowing that awareness was crucial in macro system change, Katie served as the Volunteer Coordinator for the Center of Justice and Reconciliation's first and second annual HT-RADAR Conference. Additionally, she organized and led the third annual Human Trafficking Awareness Rally as Chair of Advocacy for the Junior League. Under her leadership, the event provided a platform for activists, elected officials, and survivors to work towards policy and community-based solutions.
Simultaneously, Katie pushed herself to complete her Bachelor of Arts in Human Development at California State University San Marcos and is now proud to be graduating from Azusa Pacific University with a Master of Clinical Psychology, Marriage and Family Therapy this July. Katie attributes her success to God and the healing He has brought.